496-2369
Carry Out or Delivery
Sherman Area
Located in Sherman, Ricco's Pizza is the carry out or delivery pie you've been looking for.
With dough and sauce from scratch we're confident that you will enjoy our pizza. We offer a thin crust pizza baked crispy in a classic stone oven. We offer a wide variety of specialty and primo pizzas that you've got to try- like our Jimmy Buffet, Bob Marley, Low Rider, and Hot Rod Lincoln. Not to mention our awesome wings, sandwiches, and salads. We also have a few specials throughout the week. Tuesday and Wednesday pick any four toppings for $14.50 on a 14" pizza and $17.50 on a 16" inch. Grab a free two liter of soda with the purchase of a large pizza on Thirsty Thursday. And our everyday special, The Pizza Package, runs $23 for a large two topping, ten wings, and a two liter. Our delivery range includes (most parts) of Riverton, Cantrall, and the north side of Springfield. Give us a call!
Phone
(217) 496-2369
Location
420 Crossing Drive
Sherman, IL 62684
Hours
Mon Closed
Tu–Th 4p–8p
F 4p–9p
Sa&Su 4p–8p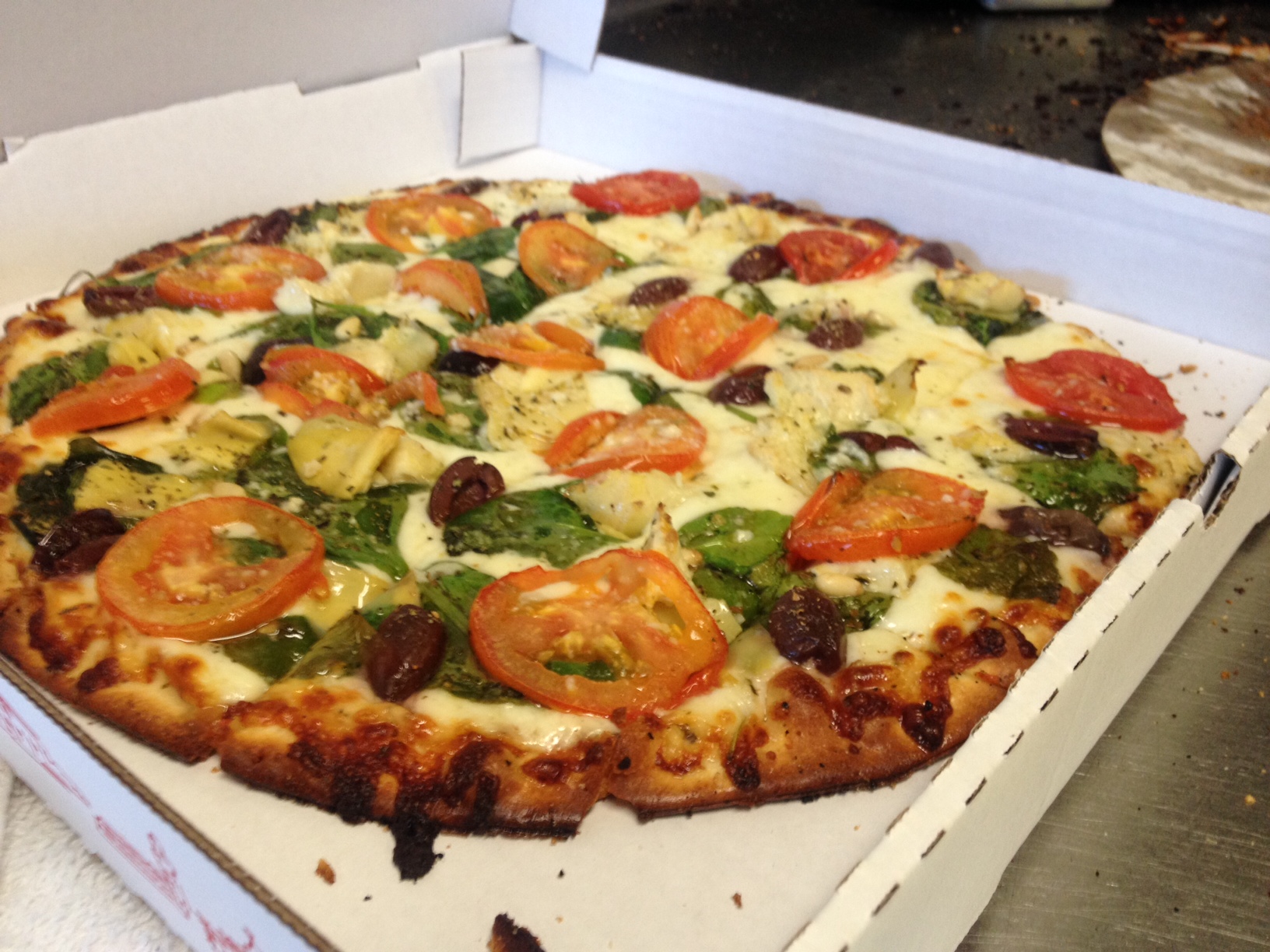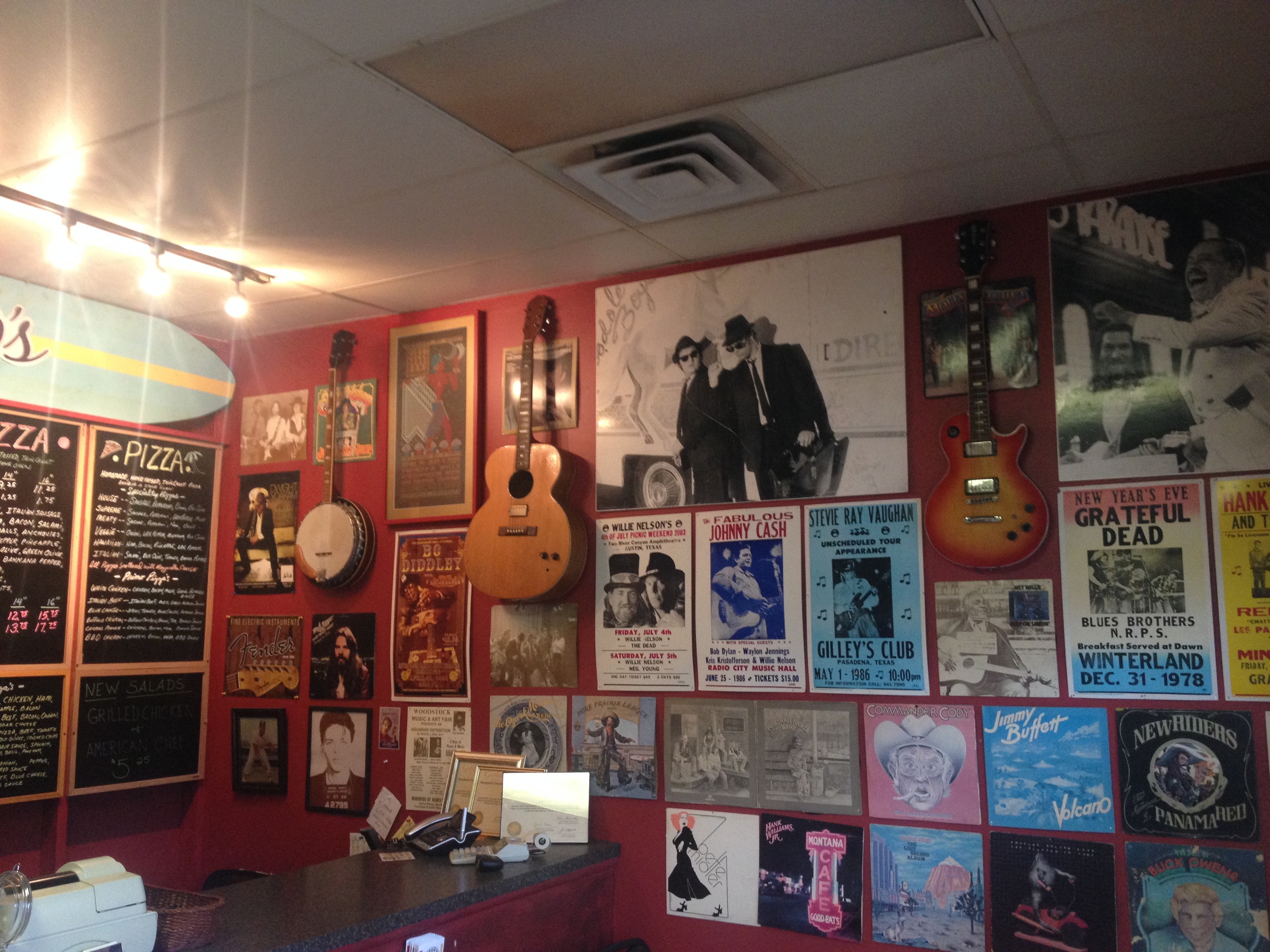 Snacks x Salads x Desserts
$

7.50 and $17.75
Wings
10 or 25
hot, bbq, terriyaki, caribbean, cajun, garlic parm, sriracha, bourbon, greek, house, roasted
$

3.75
Mixed Greens Salad
tomato, cucumber, homemade croutons
$

5.75
Italian Chef
salami, mozzarella, pepperonccinis, kalamata olives
$

5.75
Grilled Chicken Salad
$

3.50
Iced Cinnamon Toasties
$

4
Chocolate Chip Cookies
$

4.25
Sweet Georgia Brownies
Sandwiches
all served hot with mozzarella and pepperoncinis
$

6.75
Chicken Bacon Ranch
$

5.50
Pizza Sub (Two Topping)
$

4.50
Personal Pita (7" round cheese)
Pizza
beef, italian sausage, pepperoni, ham, bacon, salami, chicken, meatballs, onion, green peppers, pineapple, mushrooms, black olives, green olives, kalamata olives, banana peppers, spinach, tomatoes, jalapenos, pine nuts, basil, artichoke, pepperoncinis, anchovies and garlic
Add a cheese topping...
cheddar, bleu cheese, fontinella
$

9.50 /

$

11.50
Medium/Large Base:
$

14.50 /

$

17.50
House
sausage, pepperoni, onion, black olive
$

14.50 /

$

17.50
Supreme
sausage, pepperoni, green pepper, mushroom
$

14.50 /

$

17.50
Meaty
sausage, beef, pepperoni, ham
$

14.50 /

$

17.50
Veggie
green pepper, mushroom, onion, black olive
$

14.50 /

$

17.50
Italian
salami, black olive, banana pepper, tomato
$

14.50 /

$

17.50
Hawaiian
ham, bacon, green pepper, pineapple
$

15.50 /

$

19.50
Jimmy Buffet
ham, bacon, chicken, pineapple on bbq sauce
$

15.50 /

$

19.50
Chicken Bacon Ranch
chicken, bacon, tomato on ranch
$

15.50 /

$

19.50
White Chicken
chicken, bacon, mushroom with alfredo sauce
$

15.50 /

$

19.50
Italian Beef
italian beef, mushroom with alfredo sauce
$

15.50 /

$

19.50
Blue Cheese
bacon, tomato, blue cheese with alfredo sauce
$

15.50 /

$

19.50
Garden Fresco
spinach, artichoke, tomato, basil, pine nuts, kalamata olives with garlic olive oil sauce
$

15.50 /

$

19.50
Waylon
buffalo chicken, bacon, tomato with ranch sauce
$

15.50 /

$

19.50
Willie
chicken, bacon, onion with bbq sauce
$

15.50 /

$

19.50
The Low Rider
taco pizza, beef, tomato, green pepper, bl. olive, and crushed chips on a salsa base
$

15.50 /

$

19.50
Cheeseburger in Paradise
beef, onion, bacon, mozzarella and cheddar
$

15.50 /

$

19.50
Meatloaf
meatball, onion, green pepper, black olive
$

15.50 /

$

19.50
Blues Bros
bacon, beef, blue cheese, mozzarella with bbq sauce
$

15.50 /

$

19.50
Bob Marley
jerk chicken, onion, pineapple, mozzarella, fontinella, jamaican drizzle with a garlic olive oil base (spicy)
$

15.50 /

$

19.50
White Garlic
sausage, onion, mozzarella on a garlic alfredo base
$

15.50 /

$

19.50
Hot Rod Lincoln
buffalo chicken, onion, jalepeno, mozzarella on a garlic alfredo base (spicy)
$

15.50 /

$

19.50
Margherita (Ricco's Style)
spinach, tomato, garlic, mozzarella, and fontinella on red sauce